Hullo ladies and gentlegoats,
Here are some silly backstage photos of the 2009 Italian tour for you. Enjoy!
Sabrina da Siena and Ilaria Andreini: Eternal damnation never looked so inviting...
Francesco Antimiani as (happy? ... well, darkly contented at least) Frollo. I saw him last year on the tour and thought he was great. Performance wise the impression I was given most was of desperation. He is far more aggressive then Lavoie's timid priest, but also nowhere near as demonic as Matteucci.
Leornado di Minno as Quasimodo
discovering new things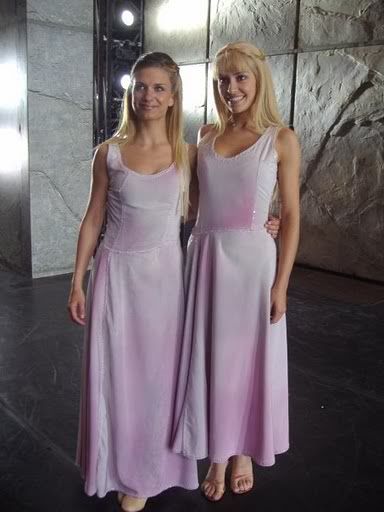 Ilaria De Angelis and Valentina Spreca as Fiordaliso (as they spell it in Italian)
Fleur eyeing Esmeralda
's cleavage
suspiciously.
Frollo discovers there is ample compensation for letting Phoebus keep Esmeralda.
Two Clopins: Ruling the gypsies via coalition...
Definite perks of being the Gypsy King.
He's behind you...
This is Alberto Mangia Vinci as (very butch) Phoebus. Maybe not quite as Apollo in terms of voice and looks as Granziano Gelatone, but in his "Dechire/Cuore in me" shirts are ripped, so definately extra points there!
Phoebus was slow on keeping his promise to hang the gypsy, so Fleur decides to take "matters into her own hands".
Luca Maggiore and Leonardo Di Minno.
Fabrizio Voghera (my god, an actually bald Frollo!) and Fracesco Antimiani.